Secondary Metal Removal Operations
(Click on thumbnail to enlarge)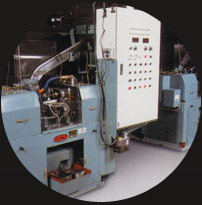 Skach Manufacturing Company provides its customers with a variety of secondary operations to complement our cold forming process. When converting a screw machine part to a cold formed part, a secondary operation may be required. These secondary operations are performed after cold forming (heading) a blank that in itself reduces material waste. The metal removal operations offered by Skach include drilling, tapping, grooving, trimming, cross drilling, slotting, and pointing.
Cold forming a blank with secondary operations can be a cost effective solution for your application. Forward a drawing or sample part to Skach and we can quickly determine the best approach to completing your project. We offer prototype services to insure that the conversion to a cold formed special is right for you.
Skach is ISO 9001:2015 certified and manufactures to ASME and IFI standards. We produce quality parts, on time, and at competitive prices. Contact us directly to learn more about Skach or to request a quote.
Secondary Metal Removal Operations Capabilities
Production Capabilities

Drilling
Shaving
Grooving
Cross Drilling

Tapping
Trimming
Pointing
Slotting
Equipment

Single and Double Spindle Drillers
Double Spindle Cross Drilling Equipment
Slotting Equipment
One and Two Tool Automatic Shavers
Materials

Aluminum
Stainless Steel
Brass
Brazing Alloys
Bronze

Nickel and Nickel Alloys
Low Carbon Steel
Copper and Copper Alloys
Silver
Steel Alloys
Dimensional Limits

Part Diameters up to .900"
Part Length up to 2.5"
Tolerances

Down to +/- .0005"
Additional Services

JIT
Bar Coding
Rush Service

Inventory Management
Prototype and Short Run
Supply Chain Management
Products

Pins
Discs
Tubular Rivets
Solid Rivets
Spheres & Balls

Threaded Fasteners & Studs
Shoulder Rivets
Electrical Contacts
Cold Headed Specials