Screw Machine Conversion of a Brass Shaft for an Electronic Switch
(Click on thumbnail to enlarge)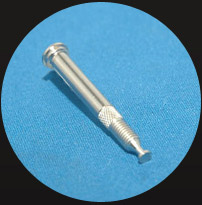 The cold forming process in conjunction with in-house secondary operations provides Skach Manufacturing Company the capability of producing a wide variety of products. The highlighted shaft is used in an electronic switch. The customer initially dismissed a cold formed part because of the numerous secondary operations needed to complete the part. Skach's design team successfully cold formed a blank with secondary operations at a lower cost to the screw machine alternative.
A blank is first cold formed out of CDA 260 brass. Secondary operations include knurling, trimming and thread rolling. The 1.745" long shaft is then finished with a nickel plate. Diameter tolerances are held within +/- .001" and the concentricity tolerances are manufactured within +/- .002".
Don't dismiss cold forming as a cost reduction if numerous secondary operations are required. Thread rolling, knurling, grooving, trimming, tapping, and drilling can be incorporated in the manufacturing process with a high degree of efficiency.
Our experience in successfully converting screw machine parts to cold formed parts has resulted in a significant cost savings to our customers. Come to a company that can deliver quality parts, on time, and at a competitive price. Contact us directly to learn more about Skach or to request a quote.
Brass Shaft Project Highlights
Project Description

Cold Forming conversion of a screw machine part with multiple secondary operations.
Capabilities & Processes

Cold Forming, Trimming, Shaving, and Roll Forming
Manufacturing Equipment

2 Die – 3 Blow Cold Former
Trimming/Shaving Machine
Roll Forming/Thread Rolling Machine
Overall Part Dimensions

Shank Diameter: .205"
Overall Length: 1.745"
Critical Tolerances

Down to +/- .0005"
Material

CDA 260 Brass
Finish

Nickel Plate