Cold Forming & Cold Headed Parts
(Click on thumbnail to enlarge)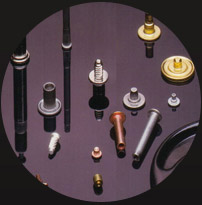 Skach Manufacturing Company, established in 1978, is a specialty manufacturer of cold formed parts and fasteners. Our multi-station cold forming equipment uses wire as a raw material to form intricate shapes from a wide variety of metals. Our modern high speed headers and in-house designed tooling are capable of holding dimensional tolerances not normally experienced in this industry. We can manufacture solid and tubular rivets, shoulder rivets, discs, spheres, electrical contacts, pins, threaded fasteners, and cold formed specials. Secondary operations include roll forming, thread rolling, drilling, tapping, cross drilling, pointing, slotting, grooving, and trimming. Skach has the capability to assist in the design phase of your project and supply short run prototypes for test and evaluation. We are prepared to offer high volume production or short runs to meet your required schedules. Skach is a full service provider of quality cold formed parts and fasteners.
Skach is certified to the ISO 9001:2015 quality standard. We offer our customers supply chain and inventory management, bar coding, just-in-time delivery, and personalized customer support.
Contact us directly to learn more about Skach or to request a quote. Send us a PDF file of your cold headed part or assembly so we can begin the collaborative process to successfully complete your project.
Cold Forming & Cold Headed Parts Capabilities
Production Capabilities

Heading
Extruding
Trimming

In-House Tooling
Piercing
Single and Multiple Die
Equipment

Single Die
Multiple Die

1 Die - 2 Blow
2 Die - 3 Blow
4 Die
Materials

Aluminum
Stainless Steel
Brass
Brazing Alloys
Bronze


Nickel and Nickel Alloys
Low Carbon Steel
Copper and Copper Alloys
Silver
Steel Alloys
Dimensional Limits

Raw Material cut-off diameter up to .375"
Part Diameters up to .900"
Part Length up to 2.5"
Tolerances

Down to +/- .0005"
Additional Services

JIT
Bar Coding
Rush Service

Inventory Management
Prototype and Short Run
Supply Chain Management
Products

Pins
Discs
Tubular Rivets
Solid Rivets
Spheres & Balls

Threaded Fasteners & Studs
Shoulder Rivets
Electrical Contacts
Cold Headed Specials