Thread Rolling & Roll Forming
(Click on thumbnail to enlarge)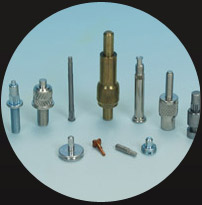 Skach Manufacturing Company uses the manufacturing process of roll forming to thread roll, tap, groove, knurl, point, and shape cold formed parts. This secondary process can be performed on our cold formed blanks from a wide variety of metals. High-speed rolling machines (thread rollers) can shape parts with little or no material waste. This process is a cost effective alternative to metal removal operations such as shaving and trimming.
This equipment is designed for high volume production, but should you require a prototype or a preproduction run, Skach has the capability to meet your needs. We are ISO 9001:2015 certified and form threads to ASME and IFI standards.
Come to a company that can deliver quality parts at a competitive price. Contact us directly to learn more about Skach or to request a quote.
Roll Forming Capabilities
General Capabilities

Prototyping
Inspection
Fabrication Method

Thread Rolling
Machine Capability

Grooving
Knurling

Pointing
Threading
Materials

Aluminum
Brass
Brazed Materials
Bronze
Copper

Nickel
Nickel Silver
Silver
Stainless Steel
Steel
Length

Up to 2 ½ "
Spindle Diameter

Up to 3/8"
Cross Sectional Tolerance

+/- 0.001"
Products

Discs
Electrical Contracts
Pins
Shoulder Rivets

Solid Rivets
Tubular Rivets
Spheres Balls
Threaded Fasteners & Studs
Production Volume

Prototype
Low Volume
Small Run
High Volume

Large Run
Long Run
Large Scale Production Volume Run
Typical Lead Times

Standard parts 4 Weeks
Up to 10 Weeks for Custom
Rush Services Available
Additional Information
Industry Focus

Automotive
Biotechnology
Chemical
Construction
Electrical

Electronics
Fasteners/Hardware
Firearms
Toys
Intended Application

Bed Frames
Copper/Brass Contacts
Electronics
Fasteners for Mechanical Switchgear
Mechanical and Electronic Switches
Metal Fasteners
Small Mechanical Assemblies

Small Metal Cold Formed Parts
Threaded Fasteners
Threaded Inserts for Plastic Moldings
Toys
Transformer Cores
Transformers
Industry Standards

ASME
ISO 9001:2015
Cold Formed Parts and Machine Institute (CFPMI)
File Formats

PDF